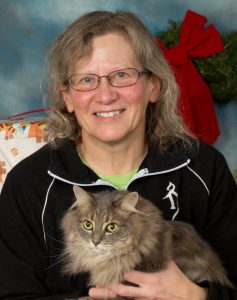 Practice Owner
Education – University of Pennsylvania
Interests – Blood Donation & Behavioral Medicine
Dr. Paula Yankauskas was raised in Connecticut and first came to Vermont for college; she attended UVM for undergraduate work and put in 1 year toward a Masters' degree in Physics before getting into veterinary school. She graduated from the University of Pennsylvania School of Veterinary Medicine in 1981, hence the VMD (Veterinariae Medicinae Doctoris, all degrees from the University of Pennsylvania are in Latin). Dr. Yankauskas founded L.V.V.S. in 1985.
Central to Dr. Yankauskas' focus are 3 things: LVVS, family, and swimming, and vary in the order that they fall on a daily basis. Prior to starting her own practice, Dr. Yankauskas gained experience at two mixed animal practices in Vermont. She founded Lamoille Valley Veterinary Services in 1985. (Alprazolam) Dr. Yankauskas and her husband, Dale, have three children: Sarah, Jacob and Dorigen. She currently lives with 4 cats: Peanut, Scaredie, Audrey, and George. An endurance athlete, Paula swims with US Masters Swimming and loves to work at personal bests in the pool and open water. She is currently the oldest person on record to have swum the length of Lake Memphremagog (September 2014, 25 miles, at 60 years old) and has completed the Triple Crown of open water swimming, having conquered the English Channel in 2016, the Manhattan Island Marathon in 2017, and the Catalina Channel in 2018.
In her free time, Dr. Yankauskas has an interest in astronomy and celestial events, wildlife observation (especially birds), photography, cooking, gardening, and traveling. She also enjoys reading and writing and hopes to one day write a book (at least one!).
Her veterinary interests include: clinical behavior medicine, transfusion medicine/canine blood banking, laparoscopic surgery, and wellness care (looking at preventive care, lifestyle, nutrition, and client education to maintain health optimally).